EVERYTHING YOU NEED FOR HOSPITALITY AREAS
We help brands create their desired atmosphere through furnishings designed uniquely for them.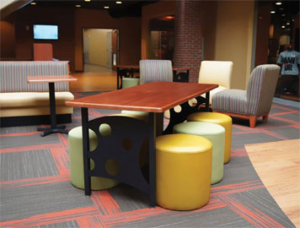 We help brands create their desired atmosphere through furnishings, audio and video and more designed uniquely for you. Timeless favorites or defying convention, our commercial furniture projects include a wide variety of products suitable for a multitude of settings. We provide Restaurants, Hotels, Airports, Universities and Businesses furniture, audio and video equipment, millwork and more to create a unique experience for your guests.
Restaurants' furniture needs are as varied as the type of food they serve. Our custom restaurant furniture portfolio includes classic and contemporary styles that are suited for quick service restaurants, fast casual concepts as well as fine dining establishments.
Hotels Lobby, Lounge and Dining areas are also one of our specialities. We provide the furniture and more to make your property stand out in the competitive hospitality industry. We help hotels renovate their public reception and dining areas to provide an upscale customer experience.
We help any businesses with a dining area from ballrooms to Employee Break Rooms. We design and complete hospitality areas. Let us help you provide guests or employees a comfortable area to enjoy lunch, a crossword puzzle, or a cuppa joe.
For customers invested in brand atmosphere, MB Hospitality Products is an exclusive partner in producing, supplying, fulfilling and installing brand specific furniture and millwork.
Michigan International Speedway
Heath Hardin
2019-04-16T13:38:36+00:00